We are lucky to have Kristen Beiris, Trust-Building in Marketing Expert, join us for a very special free intro presentation.  She'll share a useful tool that will help you learn more about your values and how each one of them can help set you up for success or failure in project planning. 
I have personally worked with Kristen and have found her method to be tremendously helpful in aligning my business with my passions and purpose. I think CoThrive members will enjoy her as well. Register (with your email) to receive an intake form in advance of the session. You'll have a chance to take an online assessment at no charge if registered by March 29, 2015. 
It's even more crucial that anyone who is selling anything, trust in their natural, unique, way of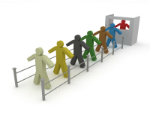 marketing and rely on it to inform their marketing decisions.  Only then will marketing to-do lists be replaced by activities of passion and happen to get clients.  Not only that!  When someone trusts in themselves, others will trust trust them too and line up to work with them. 
The first step to marketing and sales with ease is to build trust. 


Trust-Building in Marketing Expert
Coaches' Marketing Source
Visit Kristen's website to learn more: coachesmarketingsource.com

WHEN
April 01, 2015 at 10am - 11am
Who's RSVPing
---